School girl dances energetically on assembly ground, video causes buzz
School girl dances energetically on assembly ground, video causes buzz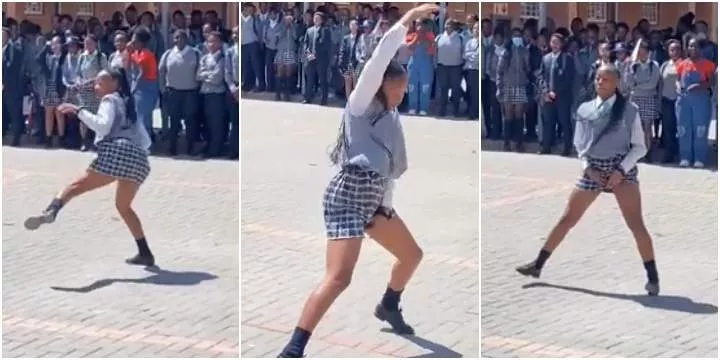 A young girl with handle @busy_girlgloomy03, has taken the internet by storm with her mesmerizing dance performance during a school assembly.
The video, which features the young girl dancing with exuberance in her school uniform, has rapidly gained attention from netizens worldwide.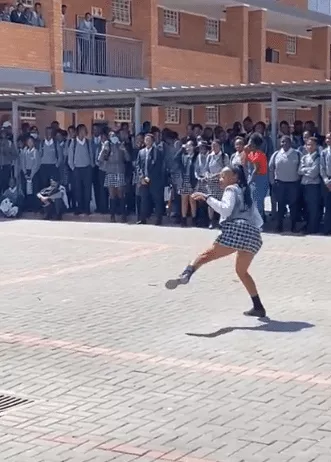 In the now-viral video, the girl, who goes by the name Gloomy, stood center stage during an assembly, captivating her peers and viewers alike with her impressive dance moves.
Her energetic performance left many in awe and quickly became a sensation on the TikTok platform.
The young girl's dance skills garnered both admiration and criticism from netizens, sparking a heated debate in the comments section of her video.
Some individuals were quick to express their concerns, suggesting that she should prioritize her studies over dancing.
Some commended her for her talent, energy, and dedication to her craft.
Netizens Reactions…
@AFRICAN CHILD reacted;  "She has a career already in this Era where talent pays more than Education."
@hildachinga reacted; "Parents go through a lot."
@Ras Dunga reacted: "I love seeing girls happy coz wow you guys go through a lot xem."
@MR BAILA said: "Wow awesome dance moves."
@user9590843637816 said; "Someone is paying thousands of dollars for fees."
@Dezotok commented: "So beautiful. I like this dance."
@BK_MUTUAH_ said: "Parent: my daughter is in school very focused reading." @kelebogileangeli1 said: "I just hope that she get A in all subjects."
@nkipyeg0101 said: "Parents is now at the village doing Harambee so that at least to get money for school fees."
@Robby Splash reacted: "I just love the way you dance darling."
@wunda commented: "Parents at home thinking my child is working really hard to pass the exams and then there's this."
See below;